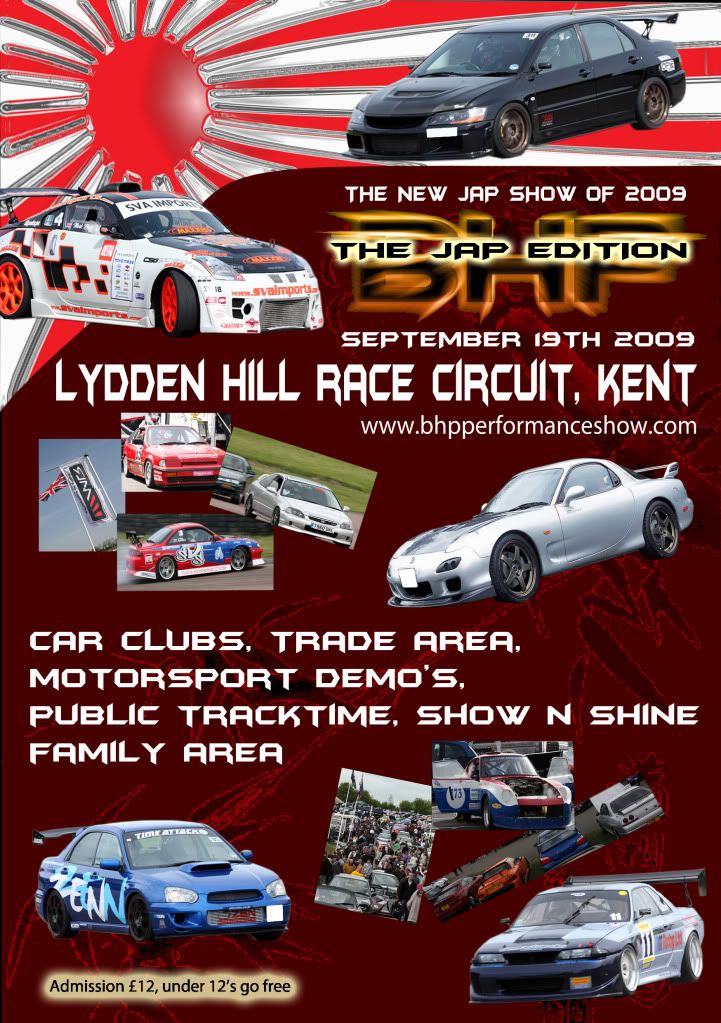 The long awaited and needed Jap car show in the S.E of England has arrived…
BHP Jap Edition
With show session drawing to a end, BHP Promotion's brings you there final show of the year. Taking the winning formula of 2009 to our final show the BHP Jap Edition. So what can you expect to see…………………..let me tell you
First and upmost is the amazing track action we have seen here all year at the home of the BHP Show's, Lydden Hill Race Circuit. And this installment will be not to be missed. So what do you like…….Drifting…….yep got that, with the best of UK talent from series such as BDC, JDM Allstars, etc and this no demo is this high speed full circuit drifting. Ok so you like racing lines…..how about 1000bhp skylines, 700bhp Scooby's etc see some the UK fastest and best known track and road cars tearing up the tarmac. So from drifting to rallying, circuit racing to rage buggy if it Jap or Jap powered we will have it to see.
So you have filled your boots with the track action and your think "I want a go" well you can because not only do we run 4 hour's of demo's during that day we also has 4 hour's public track time. Book in advance and it's £15 for 15min's (£20 on the day) and you can prove how fast your car is.
So maybe your car's not ready yet for the track…….maybe the traders can help you with getting your car ready, we have some the UK's top tuner's and retail's here on the day to help you up your game.
So what else do you need at a car show…………inspiration maybe, well we have that to in our individual and club stand area's. With every different type of Jap machinery being represented you will be sure to find a few idea's for your car. And if your club does have a stand all drivers get in half price…£6 (pass are for drivers only).
We even have a kid's area with bouncy castle's and face painting so you can bring all the family.
Price…………..£12 on the gate and under 12's go free.
So get on it asap,
www.bhpperformanceshow.com
and get your club, individual, track time forms today and don't miss the first ever Jap Show in the S.E of England.
The BHP Jap Edition
Jay